UNCOMPROMISED COMMUNICATION
By picking up the voice from within the head, our SonX allows workers to wear their protection, and communicate with their colleagues: in the loudest of environments. Because all our devices are connected to the cloud, they improve in functionality through software updates and provide actionable data on worker hearing health. The creation SonX is the results of 15 years of investment and very deep market knowledge and a breakthrough for these workers.
Clear speech in noise no longer a problem
Active hearing protection that adapts when you need it most
In-ear microphone picks up your voice from directly inside your ear canal. De-noising software removes background noise.
Intelligent software measures and adapts the amount of protection you need; whether talking to coworkers, in and out of the office, sudden noise, or just the high decibel levels you deal with every day.
Count on connected communication
Communication in up to 105 dB(A)
Push-to-talk with 4 channels Bluetooth connected radio*
360-degree situational awareness
Your hearing protection confidently covered
Check anytime if your HPD is properly inserted by pressing SonX Fit Test. Red light in photo indicates right ear needs refitting: if both green - both ears have a good fit.
Weighing in at under 4 ounces, with flexible ear hooks, and high-end ear buds, it's extremely lightweight and comfortable to wear.
Outside microphones pick up ambient noise to assess your exposure levels. Track your daily dosage and identify noise problem areas. System includes automatic firmware updates.
Plays well with other PPE
Low-profile earpiece sits snugly under protective eyewear and helmet. Respirators don't interfere with communications. Works perfectly with double protection under ear muffs, too.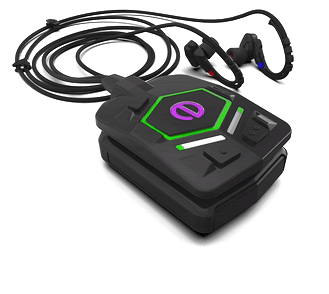 PROTECTION
SonX Fit Test
Ensures you are properly fitted at all times, indicating what ear (or both) needs to be re-fitted.
Verifies if SonX is installed correctly (visual & audio prompts)

A great team training tool to reinforce good H&S procedures

Level-dependent hearing
Adjusts to worker's environment. SonX' built-in auto protection mode switches from passive or active protection based on ambient noise conditions.
You are always ready for unanticipated loud sounds with fast automatic impulse noise clipping.
​
COMMUNICATION
Improve worker safety
Reduce accidents and lower the risk of errors by misunderstanding with
SonX In-Noise Communication.
​
Boost teamwork
Improve teamwork and productivity through sustained communication. On-site training can safely be done in noise. Push-to-talk 2-way radio communication with team-assignable radio channels and color coding light.
Range: line of site 65 feet, obstructed 32 feet

One-to-one or one-to-many

Proprietary denoising algorithm for communications in noise levels up to 105 dB(A)

Bluetooth™ smartphone connectivity (fall 2018)
MONITORING & HEARING HEALTH TRACKING
TeamLink protects hearing before there's a problem
If a worker is not protected, management knows and can correct the problem. SonX offers proactive smart hearing protection with wireless data capture. Worker and management settings provide insight with detailed reporting.
Data for a healthy retirement

Insurance cost reductions

Improved Health & Safety programs

Accident reduction

Worker safety gateway
TeamLink provides daily vital safety and health details: Noise exposure levels, in-ear dosimetry and ultimately, personalized hearing augmentation features. The goal is to enhance existing Hearing Loss Prevention Programs and eventually reduce, if not eliminate, claims for NIHL.
ERGONOMIC COMFORT
ACOUSTIC COMFORT
Natural sound
Feedback from environment improves work output, lowers stress and accidents, and creates a comfortable workplace. Low profile in-ear earpiece design provides outstanding 360-degree situational awareness. You'll have peace of mind knowing that you are safer because you can now hear warnings and other danger signals, from any direction.
​
No need to shout
Dual microphones (internal & external) with in-ear speakers allow you to speak in normal tones lowering stress and fatigue.
Set it and forget it
Focus on the task at hand instead of fussing with your comms device. SonX lightweight design has your comfort in mind. Wear it multiple ways, SonX is compatible with your safety glasses and other personal protection equipment. Big buttons and simple interface make it easy to use the push-to-talk. Tangle-free cables can be fastened close to the body to ensure you can work in tight spaces without worry.
​
Discreet comfort
Discreet and lightweight earpieces weigh less than 4 grams. High density replaceable Comply™ foam tips shape to ear canal. Ergonomic adjustable ear hooks are removable and replaceable, secure earpieces and minimizes cable noise.
​
​
WORKPLACE SETTINGS
Get the flexibility you need to manage sound levels
Need to speak to others who aren't wearing hearing protection and want to stay protected?

Do you regularly move from quiet office spaces to a noisy factory floor?

Do you work outside or deal with extreme noise changes?
We often need to manage a wide range noise levels at work. SonX ensures you are always aware of your surroundings: select the quiet comfort of Isolation Mode or switch to Transparency Mode when you need to hear more around you. Let SonX take the wheel with Auto Detect Mode, switching from Isolation and Transparency as needed. No matter what setting, you are already protected.
PROTECT YOUR LUNGS, TOO
Voice pick up directly from inside your ear canal, not your mouth
Perfect protection pairing for wearing respirators, hoods, full face pieces, and protective suits. Behind the acoustical seal of SonX earpiece is your in-ear microphone and speakers – clear communication directly from inside your ear canal, not your mouth. There's no need to shout or remove protective gear and risk exposing yourself. Low profile and lightweight, SonX has no external microphones to mess with, and does not interfere with your safety equipment.
TEACH & TRAIN SAFELY IN WORKPLACE
Do your training where it counts
Maintain job competencies out of the classroom and on the shop floor. Work in-noise, directly on the very equipment you need instructions on.
Less downtime
Lower the need for simulations, spend less time in the classroom and get real-world competency training when wearing SonX for your on-the-job training. Great for group training or one-on-one.
TECHNICAL SPECIFICATIONS
Active level-dependent protection, high noise communication up to 105 dB(A), earpiece fit test, and active protection monitoring, all rolled into one device:

SonX

.
PROTECTION
Level Dependent Protection
Noise Isolation or Acoustic Transparency Mode
Auto Detect Mode enabled automatically at 85 dB(A)
Manual override Workplace Settings (modes)
SonX Fit Test
In-noise, on-demand, earpiece Fit Test
Pass/fail results for Left and Right ear
Clipping/Impulse Noise Protection
In-ear speaker limited to 85 dB(A)
NRR
Comply™ tip (earplug) typical NRR above 29dB(A)*
COMMUNICATION
Low Noise Environment
Natural face-to-face communication using
Acoustic Transparency mode
Push-to-talk radio for remote communication
High-Noise Environment
Push-to-talk radio through state-of-the-art
de-noising algorithm and in-ear voice pickup
Speakers 1 x speaker / earpiece
Microphones
2 x microphones / earpiece
Binaural configuration
Situational Awareness
Best-in-class, 360°
Push-to-Talk Channels
Four 2-way,
Team-assignable channels
Communication Type & Band
ISM, license-free, region 2 (America)
ISM, license-free, region 1 (Europe) - Fall 2018
Communication Frequency
Short-range radio
902 to 928 MHz
Range Distance
65 feet (20 m) unobstructed, 32 feet
(10 m) obstructed***
Directional Communication 360°
INTERFACE
Controls
Volume up/down, push-to-talk
in-noise adaptation
team selection, workplace settings
Earpiece Cable 31 inches (79 cm)
User Feedback Audio & visual
Team Assignations 4 team colors
Power Supply
In-field interchangeable, rechargeable battery
Remaining battery level LED indicator
Standard micro-USB charging port on battery pack
Battery Life
20 hours 50% talk-time**
30 hours non-communication
Over-the-Air Upgrades Requires TeamLink hub
Connectivity On-board Bluetooth 4.1™
ERGONOMIC COMFORT
Amulet Dimension 2" x 2 ¾" x 2" (5 cm x 7 cm x 5 cm)
Amulet Weight 3.9 ounces (<112 g)
Ingress Protection
IP54 rugged enclosure - certification pending
Rugged tangle-free cables, clip & bolo
Earpiece Design
Low profile, in-ear earpiece
Earpiece Weight < 5 g
Ear Hooks
Adjustable, removable,
reusable, replaceable
Compatible with other PPE
Earplugs
High-density long wear,
replaceable foam Comply™ tips
Operation & Storage -4°F to 140°F (-20°C to +60°C)***
Specifications are subject to change without notice.
*Actual NRR depends on communication device design and requires certified testing.
**Results may vary. ***Battery life is negatively affected at lower temperatures.
Yes please have someone from sales contact me!